'Off-duty' heroes save a life at Ann Arbor Ice Cube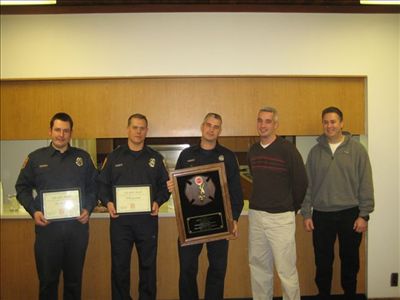 'Off-duty' heroes save a life at Ann Arbor Ice Cube
by Liz Cobbs | The Ann Arbor News
Friday November 07, 2008, 9:07 PM
Four off-duty firefighters saved the life of a 43-year-old man who suffered a heart attack while playing hockey at the Ann Arbor Ice Cube last weekend.
Pittsfield Township firefighters Will Graham and Jim Walker, Scio Township firefighter Dan Burke and Ann Arbor firefighter John Maguire were all on the same hockey team playing against another team on Sunday around 9:30 p.m.
Graham said they were about six minutes into the game when a player on the opposite team shot a puck, landed on his back and didn't get up.
"I skated over to him," Graham recalled. "He gave a laugh-snore, and from my experience, that was a sign that he was going into cardiac arrest."

Ann Arbor Police Officer Patrick Maguire, who was also on the team, witnessed the player falling. Maguire said he called his brother, John, to come over and help. Walker also joined him.
The firefighters assessed his condition. The man had stopped breathing and had no pulse.
John Maguire said he started compressions on the man's chest while someone called 911 and an Ice Cube employee retrieved an automated external defibrillator, a device that can be used during a sudden cardiac arrest.
"We hooked the AED up to him and shocked him once," Graham said. "With a combination of compressions and the AED, we got a pulse back ... and he started breathing on his own."
By the time the ambulance arrived, Graham said the man was talking, breathing on his own and had a good pulse rate.
The firefighters said they didn't personally know the man they had helped.
Pittsfield Deputy Fire Director Al D'Agostino credited the group effort of the firefighters and the AED in quickly helping the player.