Blazes lit the night sky above an elegant Ann Arbor house and a vacant apartment building in Ypsilanti Township, shooting flames above the treetops and stretching no fewer than six Washtenaw County fire departments to their limit Saturday evening.
Both blazes were reported just after nightfall and required the strenuous efforts of firefighters before being extinguished.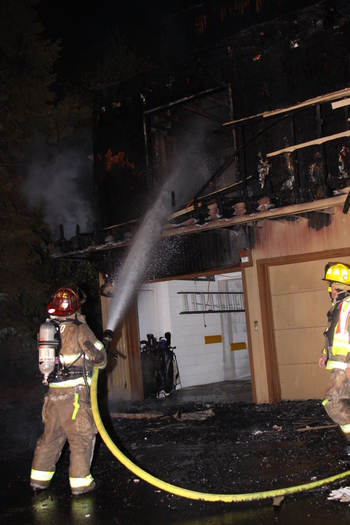 The 8.32 p.m. call about a house fire at 3485 Narrow Gauge Way, in east Ann Arbor, received response from nine Ann Arbor Fire Department units. Ann Arbor Township assisted with two more units.
Meanwhile, just after 8:00 p.m., the Ypsilanti Township Fire Department was joined at the Stevens Drive apartment fire by units from the Ypsilanti Fire Department and Superior and Pittsfield Townships on a blaze that shot through the roof of the abandoned structure.
No injury was reported at either site.
Ann Arbor Battalion Chief Chuck Hubbard said he had "no idea—who's to say?" about what caused the large house at the corner of Narrow Gauge Way and Watershed Drive. The home was more than 50-percent consumed when firefighters arrived.
"The crews did a great job of getting it knocked down with what we had," he said. Five hose lines were advanced to quench the flames. Several off-duty firefighters had to be called back to help at the scene.
A man who said he was at the Narrow Gauge Way address when the fire broke out stood in the street with neighbors but declined to answer questions about how it began.
Hubbard said he would have preferred additional help, but other departments were already tied up in Ypsilanti Township.
Ypsilanti Township Fire Department officials remained at the scene of the apartment building fire last Saturday and were unavailable for comment.
(Photo: Firefighters extinguish a blaze at a home on Narrow Gauge Way in Ann Arbor late Saturday.)