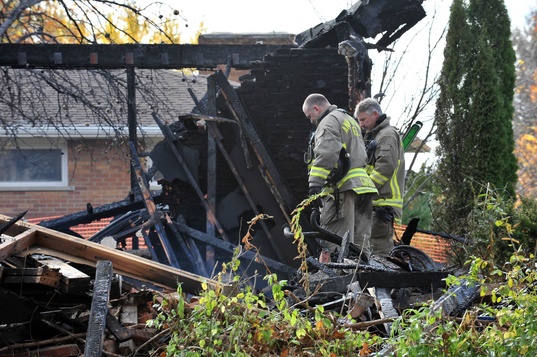 Mark Bialek | For AnnArbor.com
Ann Arbor firefighters found three bodies buried in the rubble of a home on the city's southwest side that was gutted by fire early this morning.
Officials said the bodies have not been identified but are believed to be a couple and their adult son. It's unclear where they were inside the home when the fire broke out because the entire structure collapsed into the basement, authorities said.
The bodies were found separately between 12:30 p.m. and 3:30 p.m.
The fire quickly gutted the 1950s single-family home at 1701 Waverly Road in the Vernon Downs neighborhood. Neighbors called at 2:58 a.m. to report the house was on fire, Battalion Chief Kevin Cook said.
"It was fully involved," Cook said. "The walls collapsed within minutes of our arrival. The house is in the basement now."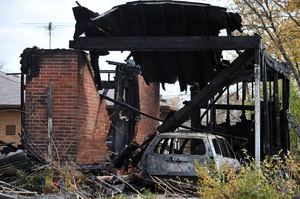 Mark Bialek | For AnnArbor.com
Battalion Chief Chuck Hubbard said the fire appears to have started in the basement, and there's no reason to believe it's suspicious at this point. Officials say combustible fuel stored at the home may have caused the fire to spread quickly.
Neighbors say they tried to help, but the fire was so intense that they couldn't get inside the home to see whether anyone was there.
Mike Hoffman, who was staying next door, called 911 and ran to the house as flames were shooting through its roof and moving north toward the bedrooms, he said. He found a piece of pipe near some hedges along a sidewalk, picked it up and used it to break two bedroom windows.
"I was just yelling, 'Is anybody in there?" he said. "Is anybody in there?"
The house was three quarters engulfed in flames, and Hoffman never heard a response or saw anyone before intense heat drove him away. Hoffman, a former Ann Arbor resident who lives in Philadelphia, was staying overnight with a friend.
"It's very sad to hear that," Hoffman said after learning bodies had been found. "I had this very bad feeling. We were kind of hoping we would hear a better story at the end."
When calls of the fire came in, the city's closest fire trucks were already on another call on Greenview, where black smoke from a chimney had been reported. It took firefighters 10 minutes to clear that scene and get to the home on Waverly, and they also were originally sent to an incorrect address, Cook said.
"It took extra time because the trucks that would normally be there were tied up and had to turn around and get there," Cook said.
When firefighters arrived, they were unable to go into the home to search for occupants because flames were shooting from every window and the roof, Cook said. It took 20 firefighters about an hour to get the blaze under control.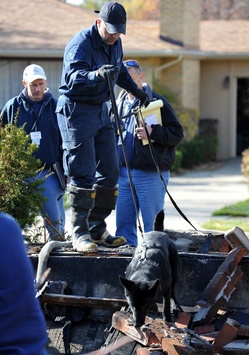 Mark Bialek | For AnnArbor.com
Ann Arbor fire investigators, police detectives and Michigan State Police fire investigators were on the scene all day searching through the debris. They used construction equipment to move some of the debris and searched a car in the driveway that the son regularly drove.
Detectives removed several rifles from the home, but police said they didn't appear to be related to the fire.
Cook said it's too early to tell what may have caused the fire.
Neighbor Donita Ehnis said the home was consumed with flames before firefighters arrived.
"When we were standing there last night, there's no way anyone would have gotten out there alive," Ehnis said. "We figured they were home. It's a tragedy."
Jim Townsend, 40, who lives next door to the family, said he wanted to help them, but couldn't. He woke up about 2:50 a.m. to a neighbor pounding on his front door. Flames were shooting near the side of his house as he and his wife hurried to the other bedrooms to wake up five young children.
"I just started screaming 'Fire! Get out!," he said. "By the time I came out and got the children away from the house, there was nothing you could do. The flames were so high already."
Barbara Richter, who lives across the street from the home, said her husband woke at about 3 a.m. to use the bathroom and noticed the living room was brightly lit. When he saw the fire, he yelled to her to call 911.
"It was beyond going by the time they got there," Richter said.
Family members who lived there were Demetri and Joanna Alexandropoulos, and their 42-year-old son John.
Richter said Demetri worked as a chef at several local restaurants, and she and Joanna worked together at Rite-Aid several years ago. She said the family kept to themselves and had lived in the home since it was built in the mid-1950s.
Lee Higgins of AnnArbor.com contributed to this story.