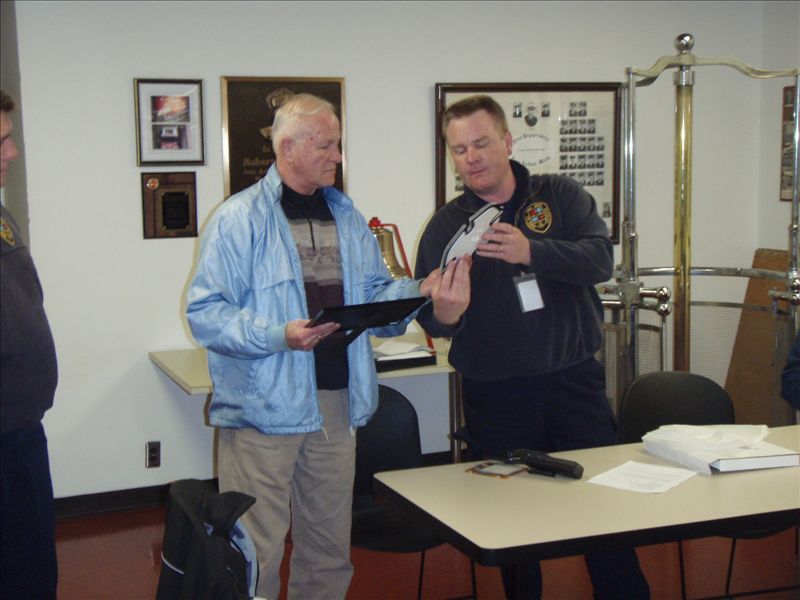 Max Wolfe Honored
On Thursday April 10, 2003, the Ann Arbor Firefighters Local 693 presented their longtime friend, Max Wolfe, a memorial plaque for his mother who passed away recently along with a photograph of the now closed Ann Arbor Fire Station 2, located at 1510 Packard. Max lived down the street from Station 2 and visited the station almost daily from the time he was 12 in 1953 to the time the station closed in 2004. Max loved visiting the fire fighters, playing cards and shooting pool with them. He occasionally ate dinner there as well. His favorite food was pizza from Cottage Inn.
Station 2 served the south side of the city and the Burns Park neighborhood for approximately 50 years (1953 – 2003) until the city permanently closed it and turned it over to the utilities department. Max arrived for his first shortly after it opened until he moved to the Chelsea Retirement Community around the same time the station was permanently closed. Firefighters say all that we have left from station 2 is the old truck, the station dedication wall plaque, and Max.
Incidentally the great-grandson of the fire chief at the time the station was built now currently works as a firefighter for the department. Max has probably met more Ann Arbor firefighters than any firefighter working today.